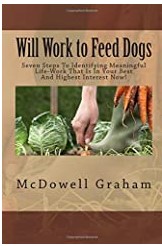 Identify Meaningful Life-Work That Is In Your Best And Highest Interest Now! 
Do you dream about doing work that you are passionate about but your present circumstances—your financial situation, your physical health, your emotional or spiritual state—do not allow you to pursue your Mission on Earth? Then this book is for you!
Popular belief would have us believe that we are failures if we are not living the life of our dreams, not working in jobs that we are completely and absolutely passionate about, that meet all of our heart's desires, and are entirely in our best and highest interest. Certainly, this is nice work if you can get it, you know what it is, and you are in a position to go after it.
However, I assure you that, contrary to popular belief, you are not a failure if you don't love what you're doing for a living. Your life-work can still be meaningful if it allows you to meet your needs, your wants, and what is most important to you right now. You simply need to redefine what "meaningful" means.
Regardless of what kind of job you are doing now or what you may do in the future, regardless of whether you've found your purpose in life, you're still looking for it, or you just want to "work to feed dogs," this book will show you how easy it is to find meaningful or fulfilling life-work that is in your best and highest interest right now.