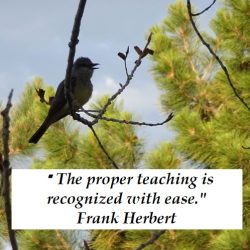 "The proper teaching is recognized with ease. You can know it without fail because it awakens within you the sensation that tells you this is something you've always known." Frank Herbert
I love the Internet. I love being able to find information on any topic from countless points of view and too-numerous-to-count perspectives. I can learn about anything that astounds, interests, amuses, confuses, or just plain annoys me.
But as much as I love it, I can quickly become overwhelmed with the staggering volume of information that is available at the click of a link.
Plus, I can easily fall into another information trap: the assumption that the way to enlightenment requires not only exploring all of the tools but using them all as well in order to ensure I do something or learn something the "right" way.
But if we believe that enlightenment cannot be achieved without using all of the tools available, and, moreover, buying books and attending workshops and signing up for webinars are the only means by which we learn to use these tools, then the tools may become a trap. Which for most of us means that instead of trusting ourselves to know what is in our best and highest interest, we look to what others have to say about it.
Don't get me wrong. I'm all for asking for guidance when I need guidance. There are times when we need help from someone else who is further along the path, who has the experience, wisdom, knowledge, and tools we need to explore the path we're on. And so I sign up for classes, buy books, attend workshops, and I myself am an Intuitive Mentor. But, the starting point must be in our ability to recognize our OWN abilities, to trust our intuition, as we carve out for ourselves the path through the wilderness that is our time here on Earth.
In "What Color is Your Parachute," Richard Bolles makes this observation: "Your heart knows the places that it loves. Your mind knows the subjects that it loves. Your soul knows the values that it loves." He refers to these places as our "favorite geographies," the places that our soul, heart, and mind most often yearn to be.
Are you listening to the truest part of yourself? Do you know what your "favorite geographies" are? What speaks to the deepest part of your nature?
Surely, the most credible vital facts are what we know at the soul level about ourselves. And I think we all know our truths, our own credible vital facts. We only need to listen to our own clear voice.