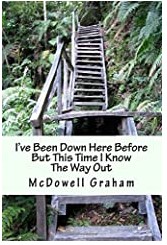 I've Been Down Here Before But This Time I Know the Way Out: Curing the No Way Out Syndrome
Have you ever wondered how some people can willingly walk away from what they know to embark on a journey into a future that isn't even defined? Do you marvel at people who recklessly go out on a limb—and intentionally saw themselves off? Do you find yourself thinking, "I couldn't do that in a million years"?
Have you ever said to yourself, "But if I only knew how they did it, maybe I could do it too"?
Then this book is for you!
This book is about the "not in a million years" component of personal reinvention. You'll hear from people who started out with one set of ideas, perceptions, thoughts, beliefs, and experiences and then ended up at a "not in a million years" place that was far different from anywhere they had been before.
Most importantly, they'll tell you how they did it so that you can do it too!
Using a simple six-step plan, you, too, will be able to climb out of any hole you might be in and begin your own journey of personal transformation and reinvention!