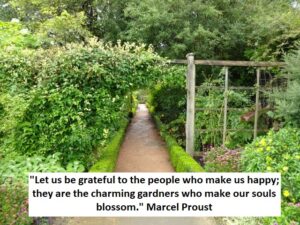 "Both abundance and lack exist simultaneously in our lives, as parallel realities. It is always our conscious choice which secret garden we will tend… when we choose not to focus on what is missing from our lives but are grateful for the abundance that's present — love, health, family, friends, work, the joys of nature and personal pursuits that bring us pleasure — the wasteland of illusion falls away and we experience Heaven on earth." Sarah Ban Breathnach
Many years ago, I set out to plan a small but thoughtfully laid out garden in the front of my house. I'm a project manager by profession, so I approached this project in the same way as I tackled multi-million dollar technology projects: I evaluated my "current state" (the patch of brown waiting to be brought to life); I envisioned my "future state" (the beautifully crafted blooms that would flower year after year); and, most importantly, I developed my game plan for achieving my final solution that would no doubt one day be featured in Better Homes and Gardens (Western States edition).
I began by researching the best plants to include in my garden. I learned how to amend the soil; how to lay out everything in such a way as to take advantage of sunlight, runoff, and wind; and how to ensure that there would be adequate space between the plants to allow each one to spread out and up (all the while being sure not to plant anything on the dragon's back, at least from a flowering feng shui perspective).
And so I excitedly bought all of my exhaustively researched plants, and I lovingly and thoughtfully placed each one according to the landscape blueprint I had equally lovingly and thoughtfully drawn up, every detail considered, every place on the dragon's back plotted out. Now, all I had to do was patiently sit back and marvel as my plans—and my plants—bore fruit and blossomed.
Even novice gardeners know that these things take time. There is an ebb and flow to the seasons; things grow and mature in their own time. Which means that, at least for the first couple of seasons, the garden might look a bit sparse. But, in time, everything will fill in exactly as planned.
As I said, I'm a planner, and a good one. I was confident that I had taken everything into account when I planned my project. And so I was willing to be patient and let things unfold as they were meant to.
Only, as it turned out, I had overlooked one factor that would ultimately spell disaster.
And that one factor was my ex-husband.
Patience was not in his vocabulary. He thought the garden looked "too sparse," and he was not willing to wait for it to fill in. He wanted what he wanted now (which, as it turned out, was his approach to pretty much everything, but that's another story). So one day, unbeknownst to me (and while I was at work), he stopped by the local nursery and, explaining this dire predicament to one of the salespeople, came home with what he was told would be the perfect addition to the garden, one that would fill in those artfully planned empty spaces quickly.
Which turned out to be Kentucky Bluegrass seed.
He happily spread that pernicious offender EVERYWHERE in my artfully planned garden. A former minor league baseball player with a wicked throwing arm, he applied himself with the precision of an outfielder gunning down the runner racing to steal home from third base. Nothing was left to chance—and no empty space was left unseeded.
How proud he was to show me the fruits of his labor when I got home. And assured me that I would be happy with the results if I would just "be patient and give it a little time."
(In truth, he was patiently waiting to tell me, "I told you so.")
Sure enough, we did not have long to wait. The very next spring, my garden began to take shape. At least, I think it did. I wasn't sure. I couldn't see my little buds pushing up to sunlight because they were swallowed up by the JUNGLE of Kentucky Bluegrass that seemed to spring forth overnight.
And year after year, while some of my plants failed, and others seemed to thrive, I could always count on one thing that would never fail and would always thrive in my garden: That (insert various expletives here) Kentucky Bluegrass.
In time, I decided to once and for all eradicate my garden of all pernicious weeds, failures, and seasonal flops. I also eradicated my husband. (Told you so.)
But the one thing I've never been able to rid my garden of is that lousy bluegrass. Which in the spirit of the holidays, I've come to think of as The Gift That Keeps On Giving.
Every spring, when I see that bluegrass spring forth (actually, it's really more like the zombie plant in my garden because nothing can kill it, and it's the only thing that seems to stay green year-round), I'm reminded of my life BKB and AKB: Before Kentucky Bluegrass and After Kentucky Bluegrass. My life—like my thoughtfully and carefully planned garden—looks nothing like the landscape blueprint I thought my life would be those many years ago.
Marcel Proust said, "Let us be grateful to people who make us happy; they are the charming gardeners who make our souls blossom."
And while I curse that bluegrass every spring, I also make a conscious choice to think of it as the best possible Gift That Keeps On Giving that I've ever received. It reminds me of many things: of how things can change when we least expect it; how our best laid plans can go awry; how what might at first seem to be the worst thing that could happen might, in time, turn out to be one of the best things.
So, when you open your gifts this holiday season, what gifts have you received that will keep on giving—and what gifts can YOU give to others so that you, too, will be a charming gardener?